Mazda CX-30 Comparison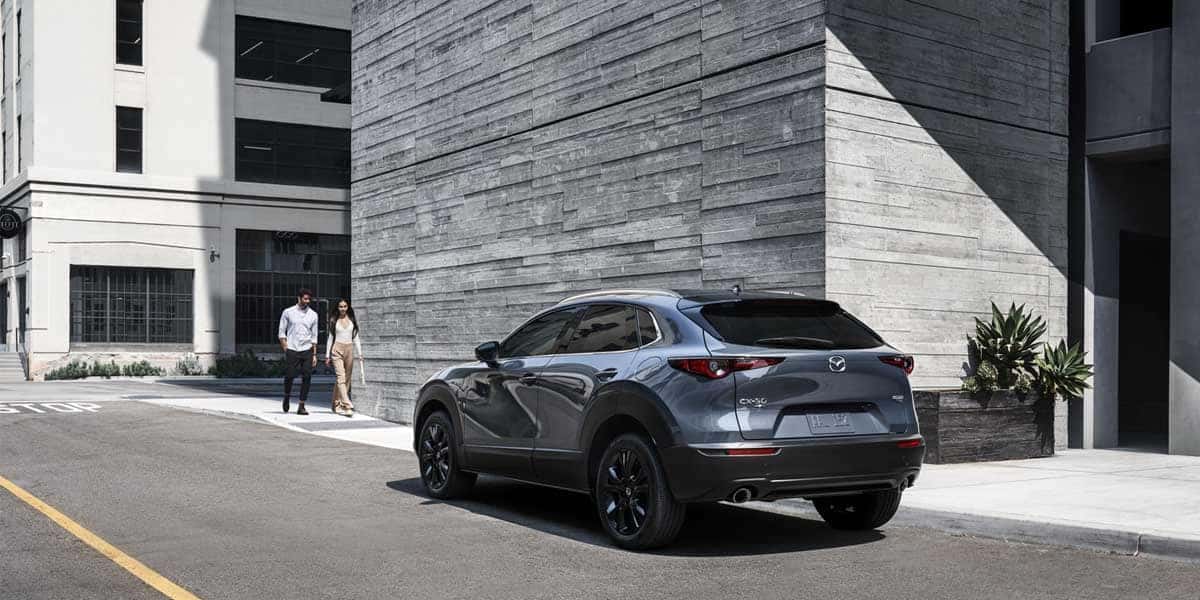 How Does The Mazda CX-30 Compare To Its Competitors?
The competition is fierce in this part of the market.
People are choosing to buy compact SUVs instead of the big saloon or estate style cars that would have previously been popular.
They give you that extra space you need while still being stylish and not feeling like a big boat-y car to drive around in.
With more and more compact SUVs popping up on the market, how does the CX-30 compare?
What Are The Mazda CX-30 Competitors?
As we say, there are lots of brands putting out compact SUVs.
Too many to list, in fact.
Some of the big competitors to the CX-30 are the Honda HR-V, Toyota CH-R, and Nissan.
Mazda CX-30 Appearance
The CX-30 is a really attractive car and compares well with similar size vehicles by different manufacturers. It has been designed to capture a sense of movement with a sweeping S-curve you'll see along the doors.
It offers clean lines, and soft curves. The "oversized" looking fender flares on the wheel arches give a really interesting shape to the car.
If anything, it is a bit lower than some of the other comparable brands, but it still has the size and roominess of a compact SUV.
What sets the CX-30 apart is that is compact enough to not look out of place if city living is your thing. Something like the, on the other hand, looks and feels like a bigger car.
CX-30 Speed
How does the speed compare to other models?
The Mazda CX-30 comes with two different types of Skyactiv engines; the G and the X.
The Skyactiv-X is the more powerful of the two models, offering the performance of a petrol engine with the fuel-saving technology of a diesel-engine.
It drives really nicely, with a smooth and reactive gearbox that's nimble on it's feet.
The CX-30 accelerates from 0-62mph in 8.5 seconds manual or 8.8 seconds automatic with the Skyactiv-X engine. It has a top speed of 127mph.
In comparison with some other models, the Honda HR-V tested at 10.2 seconds for 0-62mph and the Toyota C-HR came in at 10.9 seconds to get from 0-62mph.
It's therefore clear to see that the CX-30 holds up incredibly well against competitors for its speed, offering up some real power.
Mazda Interior Luxury
Mazda has really stepped up their game with the luxury interior on the CX-30.
The cabin has been thought out carefully to be both stylish and practical.
From adjustable leather seats, to an impressive and clean dash with plenty of intelligent storage space, it has everything you need to make it feel like a prestige vehicle.
The CX-30 does not have a touchscreen infotainment system that you might find on the Toyota C-HR.
This isn't because they're saving on money.
Mazda are trying to make their cars as safe as possible and avoid unnecessary distraction.
The Mazda CX-30 makes up for this with a clean and simple knob and button system on the center console.
The legroom in the back seats is a little tight, and the trunk could be a little bigger. You will find more space in the Nissan.
If it's a compact SUV that you're looking for…that's what you're getting.
It is big enough; it just depends on what your personal needs are. It might be too small for you if there are a number of Great Danes in your family, for example!
Mazda Safety
Modern car brands are all working hard to improve the safety of their vehicles.
Not only are they trying to reduce the risk of a crash in the first place, they are trying to make the cars as resilient as possible where a crash occurs.
Other comparable brands are stepping up their game with additional safety features as standard on their models.
This is where the CX-30 really shines.
When it comes to safety, you cannot get much better than Mazda.
It recently won the award of "2020 Top Safety Pick+" handed down by the Institute for Highway Safety (IIHS). It was also given a five-star rating by the Euro NCAP, with a 99% safety rating.
The highest rating given to any car, ever.
The CX-30 is highly rated for the work done to make the car as safe as possible for driver, passengers and pedestrians in the occasion a crash happens.
It also has some amazing features to help avoid a crash.
It has features such as a Lane Departure Warning and Lane-Keep Assist which identify when you drift from your lane and, quite literally, steers you back in the right direction!
When it comes to safety…it has to be the Mazda.
It simply leaves other brands behind. It has as standard many features (like rear parking sensors) that other brands ask extra $$ for.
Mazda CX-30 Cost
The Mazda CX-30 is a really affordable and reasonable price against other competitor compact SUVs.
A CX-30 starts around $23,000 as standard. How does this compare to the starting price of other brands?
Honda HR-V – around $23,000
Toyota C-HR – around $30,000
As you can see, the cost of a CX-30 makes it a really attainable and affordable option if you are wondering whether a compact SUV is in your budget.
Mazda CX-30: Does It Compare?
We think so!
If you are looking for a compact SUV, we think that you can't do much better than the CX-30.
The price, the features, and the luxury details all make it a really great choice for your next car.
With tough competition out there, why should you choose the CX-30?
For a family car, it outweighs the others in price and safety features, particularly.
You can drive your family around in this model knowing that it is one of the safest cars on the market.
If you have any questions, just let us know and we will be happy to help!
Fresno Mazda is located at:
5499 N. Blackstone Avenue • Fresno, CA 93710