Perhaps your tires need a little help, but still have life left in them. If so, you may simply need a repair, and that's why you're searching for a Fresno tire expert to helm the job.
Fresno Tire repair starts with us at Fresno Mazda. And we don't just care for cars from our namesake brand — we provide tires and service for vehicles of all makes and models.
Tire Repair Fresno: How Does It Work?
A tire repair is different from other services you might expect to need for your tires.
If one or more of your tires have been punctured, but the rest of the tire remains in good shape, we can fix it with a plug or a patch. The former option works as it sounds — we insert a sticky substance into the hole to refill it. Afterward, if your tire reinflates, we know that the repair has been successful.
Fresno Tire Repair might also rely on a patch. Again, the idea of patching a hole is nothing new — we cover the hole in the tire patch. But the material of the patch works with your car, activating in the heat and melting down so that it covers the gap even more securely.
Of course, our car service options don't stop here. Your tire repair may require more than just filling a puncture. We also provide the following tire-related services at Fresno Mazda:
Wheel Alignment
Another must-have is a wheel alignment. As Fresno tire experts, we perform this service regularly. And doing so will help your tires last longer, saving you money in the long run.
Your wheel alignment comes down to your car's suspension system. It holds your tires at the perfect angle so that all four of them carry the weight of the vehicle evenly.
However, this system can lose its balance, which means certain tires carry more weight than others. You might notice your car needs wheel alignment if any of the following issues arise:
Your car pulls to the left or right while you're driving.
Your steering wheel vibrates.
Your steering wheel isn't centered when you drive straight.
The tread on your tires has started wearing unevenly.
If this happens, a Fresno Mazda technician can look at your tire alignment, no matter the make or model of your car. They will examine the angle of your tires, as well as their connection to the steering wheel. With these connections adjusted, your car will once again drive smoothly — and your tires in Fresno will have a much longer lifespan.
Tire Rotation
Your tire repair in Fresno might also include a rotation. Experts say you should have your tires rotated every 5,000 to 7,500 miles.
During this service, a technician will move your front tires to the back of your car and vice-versa. The owner's manual of your vehicle should outline a rotation pattern that will ensure even wear of your tires so that they last long. Of course, our Fresno Mazda technicians will follow these guidelines when swapping out your tires, regardless of the make and model of your vehicle.
It's imperative that you schedule a tire rotation for your car as frequently as the experts suggest. Of course, doing so will extend the life of your tires, which saves you money on a tire replacement. A full tire replacement can cost as much as $725, according to Angie's List.
But having even tires, as we've learned, can make your car safer to drive, too. You'll notice that your steering wheel is more balanced when you've had your tires rotated.
On top of that, regularly rotated tires improve your safety behind the wheel. If certain tires have less tread than others, you won't have a firm grip on the road. You could lose control during an emergency.
It would be best if you also visited the Fresno tire experts for tire rotation to keep your warranty valid. Most will have a stipulation for this service, or else you lose your buyer's protection.
Tire Pressure Check
At Fresno Mazda, our tire expertise extends to tire pressure, too. If you come in for tire repair, there's a good chance that your tires need inflating. A puncture can let the air out of the tire, after all.
So, after we repair your tires, we will ensure that each one has the right amount of pressure, as specified by the brand behind your wheels.
Doing so will ensure your vehicle handles well. Over-inflated tires won't roll well, making your vehicle more strenuous to drive. You might lose fuel efficiency because it's more challenging for the engine to power the car forward.
You've probably experienced driving on low-pressure tires, too. Your vehicle loses grip of the road and can become dangerous to operate as its tires deflate. And, of course, if you've had a flat, you know it's impossible to drive when your tire runs out of air entirely.
We'll restore your tires to the perfect pressure after fixing any punctures, re-aligning your wheels or rotating your tires. You can learn to check your tire pressure between Fresno tire repairs with us. You'll need a pressure gauge, but it takes just a few seconds to use it and ensure you're driving on well-inflated tires.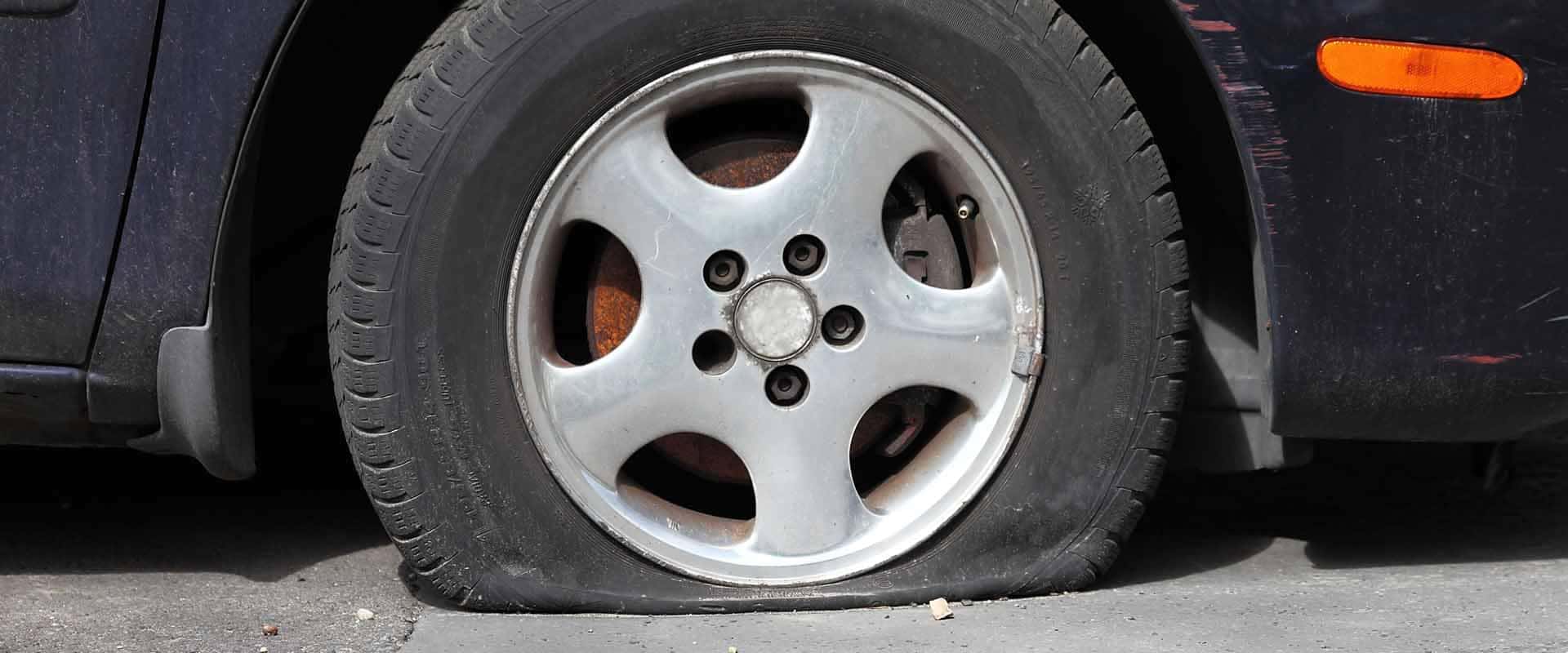 Why Should I Choose Fresno Mazda?
If you drive a Mazda, it makes sense why you'd come to us for your Freno tire repair. However, for those who drive other makes and models, we might not be the first choice for your tire-related service.
However, our expertise extends beyond the Mazda brand, and our Tire Center welcomes vehicles of all kinds. We also have all of the best tire brands from which to choose if you need new tires. Our selection in Fresno includes Goodyear tires, Bridgestone, Dunlop, Hankook, Kumho and Nexen tires.
Our Tire Center is staffed by factory-trained technicians who know how to adjust, fix and replace your tires. We also strive to maintain competitive prices so that a tire repair service or your new tires in Fresno won't break the bank. You can also inquire about our finance plans, which can cover your tire service or replacement.
Finally, we know that you're busy. Our Fresno tire experts work quickly to get the job done so that you can roll out of our service center as soon as possible.
How Can I Tell I Need a Tire Repair?
Some of the reasons why you might need a tire repair have been mentioned already. But let's quickly sum up why you might want to come and see us at Fresno Mazda.
You should come in for a tire repair if you find a puncture on one of your tires. Even if you can't see a hole yourself, you may have noticed that your tires have deflated. Perhaps a tire-pressure test has indicated the same, and, even after refilling your wheels, they continue to lose air.
This situation can likely be solved with tire repair. But you have to get your car into us as soon as you can to ensure we can repair the tire. If you let a puncture sit for too long, it might grow to be irreparable.
On that note, a puncture has to be on the tread of the tire for us to repair it. If it has opened on the edge or side of your tire, we can't fix it — it will need to be replaced.
The puncture has to be small, as well. In most cases, anything larger than a quarter-inch will require a full tire replacement, as opposed to a quick repair.
If your steering wheel pulls to one side, or if you feel like your car's hard to handle, it might need a tire rotation or wheel alignment. Of course, we do that, too — we're not just performing Fresno tire repairs here.
Why Are Tires So Important?
We've already touched on this with the rundown of our Fresno tire repair services. But it's important to reiterate just how essential tires are to your safety on the road.
Some experts consider tires to be the most crucial safety feature of your vehicle. It makes sense if you think about the way your car functions.
Tires Step Up in Bad Weather
In Fresno, we don't have to deal with snow often — we have roughly 271 sunny days per year. Still, if you drive out of the city or through the rain, your tires have to be able to handle more than one type of weather.
Slick roads and worn-down tires can be a disastrous combination. A well-maintained tire will grip the road and prevent your car from slipping. The same cannot be said for wheels that have lost their tread due to lack of rotation, poor alignment or an unfixed puncture.
Your tires do more than grip the road when it's raining, though.
Tires Make Your Brakes Effective
You slam on the brakes. What happens next?
If your car slides forward, you would be in big trouble. You need your vehicle to stop in a pinch if another car gets in front of you or a pedestrian unexpectedly steps into the road.
Your tires are just as vital in such situations as your quick reflexes. If they can't grip the road and help stop your vehicle's forward motion, you could find yourself in an avoidable accident.
Tires Improve Your Gas Mileage
We've touched on this already, but your car's tires play an integral role in your vehicle's gas mileage.
If your tires deflate, then they will drag your vehicle along. Its fuel efficiency will drop because the engine will have to work harder to pull the car along.
Interestingly, the same happens for overinflated tires. They become too puffy and heavy, which makes it harder for your car to roll along. This effect will cut down on your car's mileage, as well.
Tires Make You and Your Family Safer
All of this combined makes your vehicle safer for you and your family.
A well-maintained tire will stand firm against weather and winding roads. It will respond quickly to brakes. And it will roll evenly over surfaces in line with the other wheels of your car.
That way, when you drive your car with your family inside, you can feel confident that everyone is safe and secure.
There's no better reason to visit us, the Fresno tire experts, as soon as you notice your tires lagging in quality. We can repair them and restore their original strength and quality. Or, we can replace them with well-priced, high-quality tires from a brand you trust.
When Can I Come In For a Fresno Tire Repair?
Now that you know what we do and why it's so important, you might be ready to set up your Fresno tire repair with us. We aim to have our customers in and out of our service center as quickly as possible. That way, your service fits easily into your busy schedule.
You can log onto our website and set up your Fresno tire repair today. Or, you can give us a call at (559) 256-0700 to get your car into our shop.
Regardless of how you contact us, don't hesitate to do so. Your car's tires are vital to you and your family's safety while on the road. Fix your wheels today and drive with peace of mind — there's no better feeling than that.