Reasons to Lease a Mazda CX-3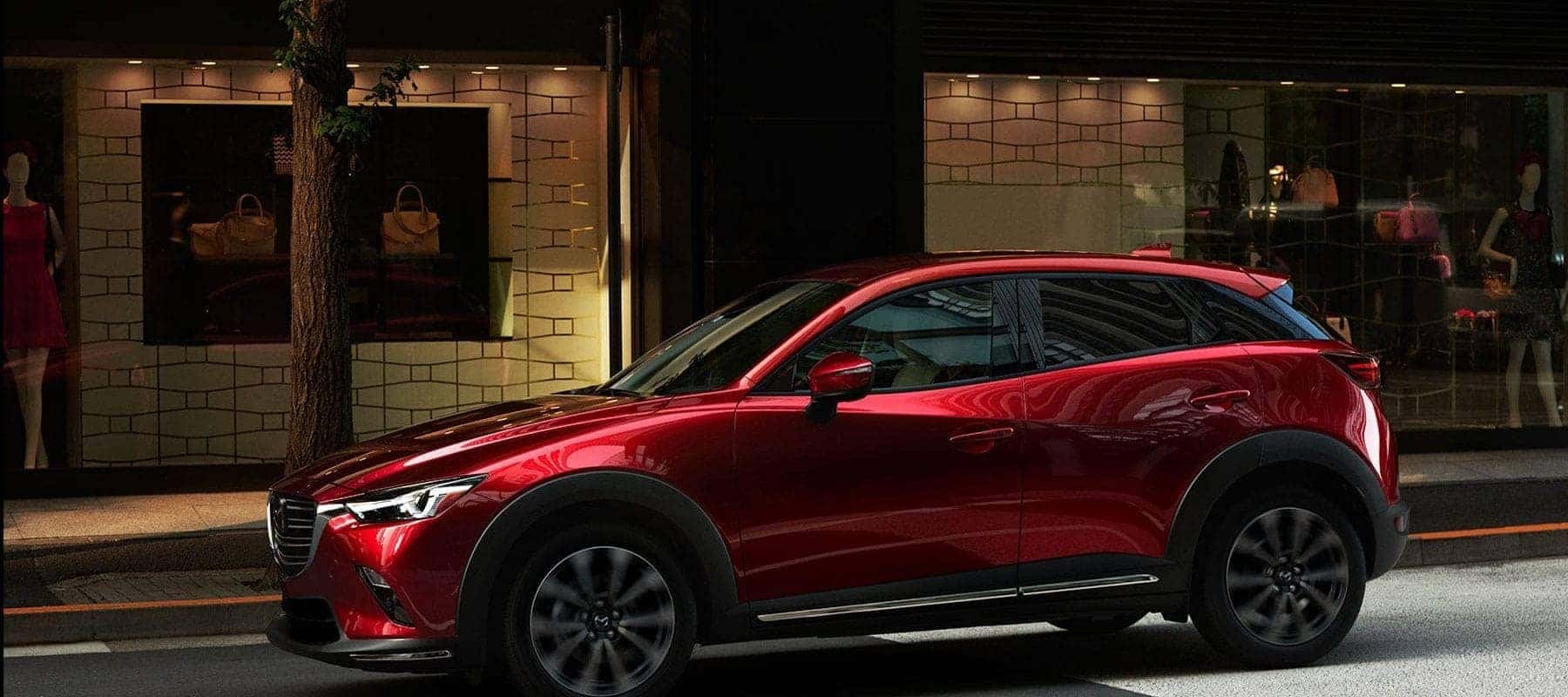 Looking to Lease A Mazda CX-3 in Fresno?
FEATURES DRIVERS LOVE ABOUT THE MAZDA CX-3
When leasing a CX-3, you get to take advantage of features that make driving fun, comfortable, and safe. The Mazda CX-3 balances style, performance, economy, and comfort features. Current drivers of this Mazda subcompact SUV praise its responsive steering and the pristine sound quality of its Bose Sound system.
CX-3 drivers also mention the vigorous acceleration and fuel efficiency of between 29 mpg in the city and 34 mpg when driving on the highway. These efficiencies are courtesy of its Skyactive-G 148 HP in-line 4-cylinder engine. This AWD crossover also comes standard with a 6-speed automatic transmission that leaves you smoothly traveling over varying types of terrain.
WE MAKE LEASING EASY FOR YOU
Ease of leasing is one of the popular reasons for choosing the lease option for one of these small crossovers. We strive to make the entire experience of leasing a Mazda hassle-free.
Our lease specialists are here to help you through each step of getting your new vehicle, and when the lease ends, we make that part of the process easy, too. When you lease, you don't have to deal with selling or trading in your car at the end of the lease period. You just turn it in at the end of your lease term. The details are arranged in writing at the beginning of the lease, so you don't have to spend time and energy negotiating for the best trade-in price.
WHY IT'S EXCITING TO LEASE A CX-3
While taxes may not be the first thing that comes to mind when someone says the word exciting, leasing offers some pretty exciting tax advantages for both businesses and individuals.
Businesses may be able to write off the full amount of lease payments. Individuals, on the other hand, may see reduced sales taxes when leasing, compared to the amounts paid when purchasing.
A CHANCE TO ALWAYS DRIVE A NEWER, WELL-MAINTAINED VEHICLE
You generally have the benefit of a manufacturer's warranty covering the cost of repairs when you lease, and that adds to the cost-effectiveness of the experience. On top of that money-saving benefit, lease payments that typically lower the payments when buying a new vehicle.
If an issue does arise with your Mazda, our service department is ready to serve all of your vehicle maintenance and repair needs. That ensures you can be confident of your CX-3 staying in top condition as long as you have it.
Stop by and browse through our available selection of Mazda's or call Fresno Mazda at (559) 256-0700 today to arrange a test drive and get more information if you would like to lease a Mazda CX-3. Our lease specialists are ready to help put you behind the steering wheel of your dream car.
Fresno Mazda is located at:
5499 N. Blackstone Avenue • Fresno, CA 93710